Your Neighborhood. Live the Life!
The Greens is an oasis in the city of Raleigh, located in a natural environment with multiple active outdoor activities at your front door. Yet, we are just 2.5 miles from Downtown and all of the Raleigh nightlife and cultural offerings. Enjoy any one of the many entertainment venues, and at the end of the night, you are only 5 minutes from home.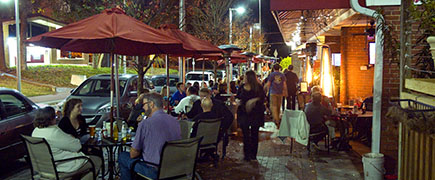 There is no better place in Raleigh to shop for fresh food and produce than the
Raleigh State Farmers Market
. For other shopping needs,
Cameron Village Shopping Center
has been a downtown mecca for shoppers for many years. For the even more adventurous, hop on I-40 at our convenient interchange and drive off to the beach or the mountains, or any of the quaint North Carolina towns in between.
The Greens
is proud to be the official home of the
North Carolina FC
(formerly the Carolina RailHawks) soccer team. The team had its inaugural season in 2007 and has quickly become an integral part of the community. They are a founding member of the North American Soccer League and compete under the leadership of head coach Colin Clarke.
The Carolina RailHawks won the regular season in 2011 and reached the third round of the US Open Cup. In 2013 the NASL's format changed to a split season, and though the RailHawks finished with the most points in the league, they finished 2nd in both the Spring and Fall seasons. They also defeated MLS teams Los Angeles Galaxy and Chivas USA to advance to the quarterfinals of the US Open Cup. In 2014, the RailHawks again defeated Chivas USA and Los Angeles Galaxy to reach quarterfinals of the US Open Cup.
2015: The RailHawks finished the Spring Season in 3
rd
place, putting themselves in good position for the Fall Season; however, a 7
th
place Fall Season finish landed the club at 6
th
place overall spot in the standings. Carolina played to a 9W-8D-13L record.
2016: The RailHawks made an impressive Open Cup run, with a 7W-5D-10L record, reaching the fourth round where they lost a tight 1-0 game to the New England Revolution of MLS.
The 2017 season is sure to be exciting for North Carolina FC, so head to the WakeMed Soccer Park in Cary to catch a game and see
The Greens
residents in action!